FindOptimal helps you find the ideal hotel at the lowest price. We compare prices from 120 hotel chains and top travel sites to get you the best hotel rate. You can do a direct booking with the link to the hotel's web site and accumulate hotel points. You can also use one of the largest online travel agencies including Expedia, Hotels.com, Travelocity, Priceline.com, Agoda.com, Booking.com, and Ctrip.com. Furthermore, FindOptimal offers a unique Optimal Rate if you have an opportunity to save more by splitting a multi-night booking.
No Mark-up
FindOptimal is 100% free. We don't add any mark-up on what our partners offer. In fact, you are re-directed to our partners' websites and book hotels there. You pay exactly the same as you search on our partners' websites. But with FindOptimal, you don't need to open multiple windows, search hundreds of items and compare hotel prices site by site.

Best Hotel Rate From Direct Booking
Hotel chains such as Marriott or ChoiceHotels often offer slightly lower prices than travel agencies. FindOptimal integrates inventories from 120 hotel chains, including brands managed by Marriott, Starwood, Hilton, IHG, AccorHotels, ChoiceHotels and Wyndham. When a property of those hotel chains appear in the search result, you will see a link labelled as "Hotel Web". Clicking on that link will re-direct you to the hotel's direct booking site.
Enjoy Loyalty Award
Besides rates, direct booking also give you a chance to accumulate hotel points. Some hotels reject to award you points or benefits if you book from an agency. We are not a travel agency. If you use FindOptimal and choose the link to the hotel's website, you will be titled with all benefits of the hotel's awards program because you are booking directly with the hotel.
If you choose a link to an OTA, you can enjoy the OTA's awards too. For example, if you use the links to Hotels.com, you will get one free night after booking 10 nights. If you use the links to Expedia, you can accumulate Expedia+ points the same as you book on Expedia.com. Please remember to log in with your account with our partners after you are redirected to their website.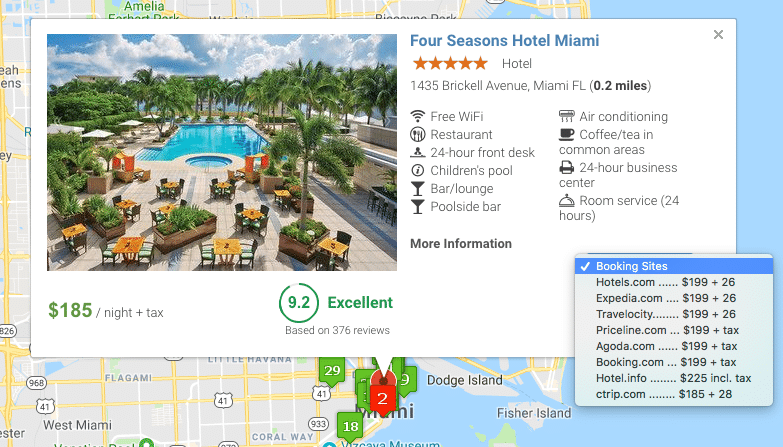 Best Hotel Rate From the Best Players
We don't display hotel's "Rack Rate". We just compare the best with the best. Expedia, Inc. and The Priceline Group are two largest online travel service groups in the world. They have the strongest negotiation power to get best deals from most hotels.  Hotels.com and Travelocity are two subsidiaries of Expedia, Inc. Agoda.com and Booking.com are under the umbrella of The Priceline Group. The Expedia brand and the Priceline brand have the lion's share of the online travel market share in the U.S. Booking.com is the dominant player among online lodging intermediaries in Europe. And Agoda.com is a leading brand in Asia.
We also included some OTAs who offer additional inventory or better prices. Ctrip is the largest OTA and offers the most accommodation choices in China. Splendia has some unique hotels in Europe. Hotel.info and HotelsClick.com have lower prices on certain hotels. Please note that prices of some OTAs such as Hotel.info and HotelsClick.com include tax.
Best Hotel Rate From Optimization
In addition to all deals and benefits offered by hotels or travel agencies, FindOptimal also offers an optimal rate that may give you an extra saving up to 40%. Thanks to the so called Revenue Management system, Hotels charge different prices in different days. If you need to stay for several days, some hotels just calculate the total price as the highest daily rate multiplied by number of days. In that case, you will be better off to book different days separately.
FindOptimal offers an "Optimal Rates" option. If you check that option and then search, the Optimal Rate will be displayed when you have an opportunity to save more by splitting one multi-night booking into several parts. The Optimal Rate is calculated using prices from Hotels.com. If it is the best hotel rate, you can click on the Optimal icon and review breakdown of the optimal booking plan. From there, you still have a chance to complete bookings with your favorite site, although the total price may be different from the Optimal Rate displayed.