Hotel searching is time-consuming
How much time do you spend on hotel searching when you plan for a vacation or a business trip? Don't feel embarrassed to say hours, because you are absolutely not alone. There are so many factors to consider: price, location, service quality, facilities, space, cleanliness, room comfort, convenience, noise, view, breakfast, bar and restaurant, transportation and parking options, reward programs and neighborhood safety. There are so many choices available, thanks to the prevailing travel web sites, which can overwhelm you with tons of hotel information. How can you make decisions wisely and quickly?
Save time with personalization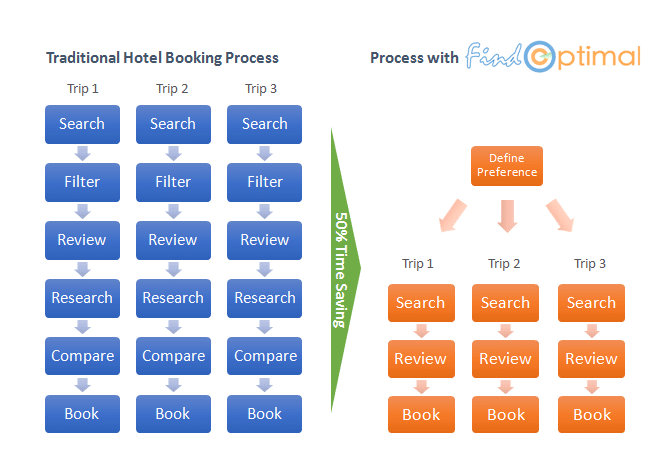 With a traditional travel site, you search for a destination and it returns dozens of results. You have no idea how those results are ranked. You need to review them one by one, dig into individual pages to find out information you are interested, and compare multiple candidates side by side. Furthermore, you need to check other travel sites to make sure you get the best prices. The whole process can easily take a couple of hours. And the most frustrating part is that you need to repeat the same process when you have another trip. Sometimes you have to reserve a hotel with your smart phone. Can you imagine how hard it is doing all of the above mentioned researches and comparisons with a tiny screen?
Different from traditional travel search sites, FindOptimal does all time-consuming work like information collection, property filtering and price comparison for you. As a personalized search engine, FindOptimal remembers and uses all your preferences in property type, star rating, brand, price range, amenity, customer rating, etc. You just need to define those preferences once. Then, you can relax and let FindOptimal identify the best hotel for you in all future trips. What a big time saver! With FindOptimal, you can also enjoy booking a hotel with a smart phone because most hard work has already been done in advance.