Have you ever wondered if you can control hotel ranking in the search result? After all, price is not the only factor when you consider a hotel. Each hotel has its character. Very often you need to balance the trade-off between prices and different hotel attributes.
Hotel Ranking with Multiple Factors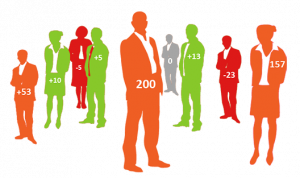 Assuming that you are a Marriott Rewards member, you prefer to stay at a Marriott hotel when you travel. But if there is a same level hotel nearby with $30 lower price, will you consider it? How about $50 lower?
Every traveler loves free WiFi, free breakfast and free parking. If everything else is the same, one hotel offers those freebies while another hotel doesn't but has $20 lower price, which one will you choose?
If you plan to have a business meeting with a client in another city, how can you quickly identify hotels within the walking distance to the client's building?
Scoring System
The FindOptimal scoring system is designed to help you solve all above puzzles. With this fantastic tool, you can filter hotels with not only common features such as price range, star rating, and regular amenities but also our unique features including distance to the destination(s), rewards program, hotel chain, safety index, area demographics and hundreds of amenities.
Furthermore, you can assign a positive value (bonus) or a negative value (penalty) to each item you selected from 20 categories. This way, you can define your own scoring system to rank the hotel candidates. That's right! The search result will be tailored to your specific and detailed requirements.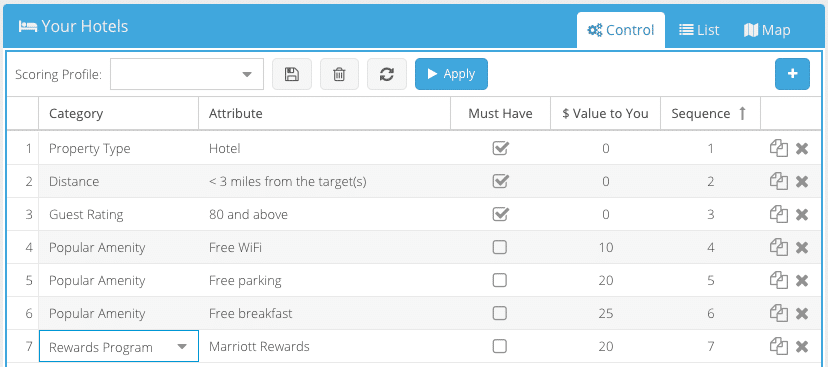 Hotel Ranking Examples
For example, if you prefer to stay at a Marriott hotel because you like their service and also want to earn some points, you can assign $20 bonus to any Marriott hotel. With this setting, you will get a list of hotels that favors Marriott but also includes other non-Marriott hotels that may better accommodate your stay. If all other characters such as Star Rating and Distance to the destination are the same, other non-Marriott hotels have to be at leave $20 cheaper so as to be listed before a Marriott hotel.
Everyone loves freebies, but each free service creates different values to different people. If you are a single traveler, a complimentary breakfast means about $10. But if you bring your whole family to a vacation, the value of free breakfast will be multiplied by number of your family members. With FindOptimal.com, you can assign either $10 or $30 for availability of such freebies.
With regards to the distance, you can require the returned hotels within certain miles from your destination(s) or assign a value for each mile since 1 extra mile means a totally different thing for a walker versus a driver.
Hotel Ranking Factor List
The examples we give here is just the top of an iceberg. We have several hundreds items for you to define your scoring system. Don't be afraid of too many choices! Those items are well organized in several categories. Best of all, you can save your scoring profile for later use. In other words, you just need to define your filtering and scoring rules once. Next time when you open FindOptimal.com, you just need to type your destination(s) and all those pre-defined rules will be applied for your new searches. In addition, you can save multiple profiles, e.g. one for business travel and one for family vacation.
Below is the list of all item categories for your reference.
Price: Price per night. You can define one or multiple price ranges.
Distance: Miles from your destination(s).
Star Rating: Star rating defined by certain authorities.
Guest Rating: Rating by guest who have stayed in the property in the past.
Theme: Themes offered by the hotel, such as Romantic, Historic and Luxury.
Reward Program: Hotel reward program.
Hotel Chain: Hotel chain name.
Property Type: Hotel, Resort, Motel, Bed & Breakfast, Vacation Home or Apartment Hotel.
Popular Amenity: The most popular amenities required by hotel guests.
Neighborhood Safety: Crime index of the zip code area in which the property is located.
Property Amenity: Amenity of the property, such as Business Center, Restaurant and Fitness Center.
Room Amenity: Amenity in the hotel room, such as Air Conditioner, Bath & Shower and Coffee Maker.
Acceptable Payment: Cash, Debit Card or Credit Card accepted by the property.
Property Size: Number of rooms of the property.
Property Age: In which year the property was built.
Number of Floors: Single floor, low building or high building.
Hotel Policy: Hotel policy about pets, smoking, etc.
Area Statistics: Statistics indexes reflecting the demographics and economy of the the zip code area in which the property is located.